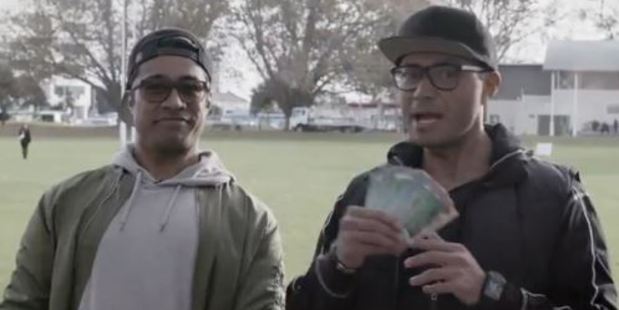 Kiwis banking with the Co-operative bank could expect extra money in their back pockets today, as it gives away more than $2 million to its customers.
Calling it "Happy Rebate Day", NZME's Flava radio show hosts Pua Magasiva and Sela Alo helped celebrate the day, hitting the streets of Auckland this week to "put-pocket" unsuspecting Kiwis with cash.
The experience was filmed as the pair walked around the streets putting cash into people's back pockets, bags - even giving away money to drivers waiting in traffic.
The Flava hosts also stuffed cash into a neatly folded blanket under a bench for a homeless person.
The passersby were initially caught off-guard, but later smiled and thanked the pair.
The pranksters had creative ideas to give away money - attaching cash to a fishing rod and moving it around in front of a man, and putting money in a hood of a woman's coat.
Magasiva, a Shortland Street star, even tried his luck camouflaging himself in a leaf costume, but eventually ran after passersby to slip the cash into their back pockets.
The Co-Operative bank, owned fully by its customers, will give $2.1 million to more than 130,000 of its customers today, after making a 16 per cent increase in profits ahead of the previous financial year.
Customers can expect between $10 to $600 back, based on the level of investments, and the balance of deposits in their accounts.