Peter Schiff appeared on CNBC this week with a dire warning on America's economic future – "It's gonna be awful!"
Do you guys remember the financial crisis of 2008? Did you think that was bad? This is going to be worse."
Peter said this time around, we're not looking at a financial crisis. We're staring down the barrel of a currency crisis. Ultimately, the central bankers and government policy makers will sacrifice the dollar on the altar of the stock market. Their main goal is to make sure the stock market doesn't crash again. Peter said they might succeed, but only at the expense of the dollar.
So we're going into a currency crisis, and this crisis is going to be much bigger than a financial crisis. The impact it's going to have on the average American, on his standard of living, on his way of life is going to be much more profound. And sure, people won't lose as much money in their stock portfolio, but if they try to sell their stocks and spend the money, the purchasing power that they lose is going to be much greater then what was lost in '08."
Peter went on to defend his position, arguing that the only reason the dollar is so strong right now is because people actually believed Federal Reserve policy is working. What are people going to do when they finally figure out that it was a failure and we've been in a phony recovery?
http://news.goldseek.com/GoldSeek/1465921032.php
Dear Janet, "No Surprises!" – China Devalues Yuan To Weakest Since Jan 2011
Just in case The Fed had any ideas of surprising markets with a "confidence-inspiring" rate-hike tomorrow, The PBOC just sent a message loud and clear to Janet as they
devalued the Yuan fix by over 2 handles, above 6.60 for the first time since January 2011
.
This is the 3rd major devaluation step in the last 10 months (remember when China said August was a "one off"?)
http://www.zerohedge.com/news/2016-06-14/dear-janet-no-surprises-china-devalues-yuan-weakest-jan-2011
Global Debt Reset: A potential Extinction Level Event coming!
One of the biggest threats to our economic outlook.
These Debt Slaves are the Government's Largest Asset Class, and it will Haunt the Economy for Years
Endless discussions of how important inflation is to the US economy, and how there hasn't been enough of it in recent years, and how more inflation would be a godsend, has become the standard. The threat of lethal deflation is being brandished to rationalize all kinds of absurd monetary policies. And we know why: inflation is good only for debtors, in an over-indebted country.
But that's not true either. Because a lot of debtors, particularly those who funded their education with loans, are being strangled by … inflation.
"College Tuition and Fees constitute one of the biggest threats to our economic outlook," writes Jill Mislinski at Advisor Perspectives, which runs an excellent series of analyses and updates on the topic.
The chart below (by Advisor Perspectives) shows the Consumer Price Index sub-component for college tuition and fees (red line) going back to 1978. It also shows the price increases of autos (blue line) and medical care (purple line), "both of which pale in comparison":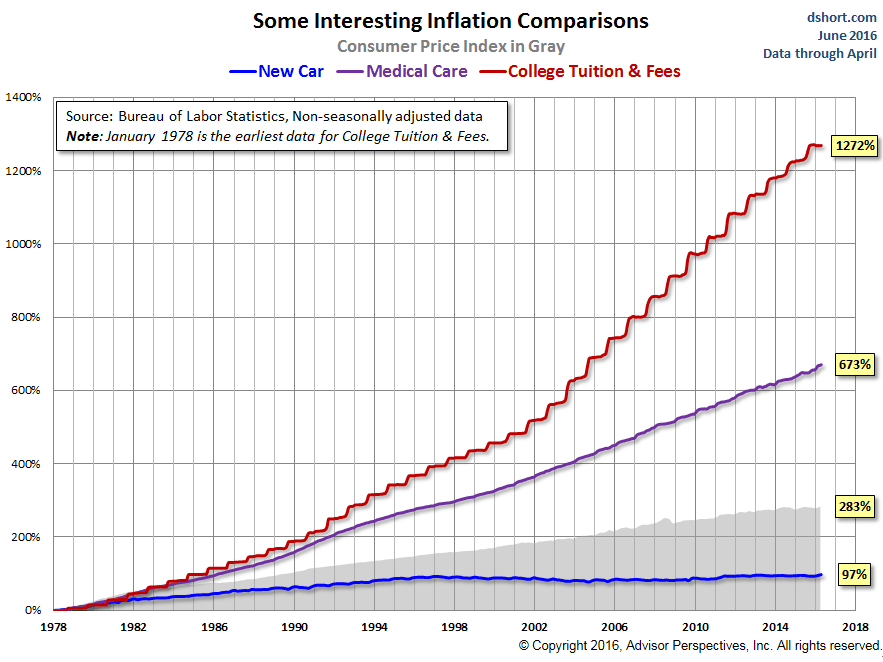 http://wolfstreet.com/2016/06/13/debt-slaves-student-loans-government-largest-asset-class-to-haunt-economy-for-years/