Is the Fed Really Ready to Raise Interest Rates?.
Fed chief has remarks scheduled for Friday afternoon

Plans for early getaway before long weekend are upended
The Friday before Memorial Day weekend is typically dead on Wall Street. The bond market shuts early and trading in stocks slows to a trickle as everyone hightails it out of town.
Not this year.
At 1:15 p.m. New York time, just 45 minutes before the world's biggest bond market is set to go dark for three days, Federal Reserve Chair Janet Yellen is due to speak at an event in Massachusetts that may turn into a crucial moment for investors handicapping the path of interest rates.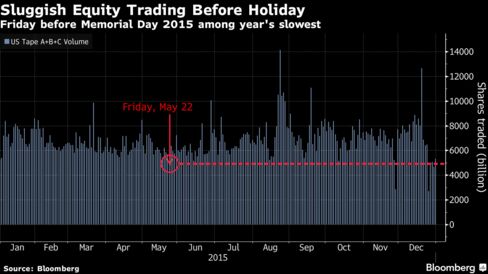 Policy makers project two rate boosts this year, and Yellen could use the appearance -- billed as
a conversation
with Greg Mankiw, a Harvard University economics professor -- to signal that the Fed's meeting next month is
in play
. For traders across Wall Street, that prospect is enough to put getaway plans on hold.
"It could delay some tee-off times," said Tom di Galoma, managing director of government trading and strategy at investment bank Seaport Global Holdings LLC in New York. "People will definitely be sticking around."
Seeking Clues
Much more is at stake than a missed golf game or a headstart to Long Island's Hamptons beach towns.
Investors are poised to jump on any policy clues after a shift in rhetoric following the release last week of minutes from the Federal Open Market Committee's April meeting. The account of the gathering suggested the next rate increase may come sooner than traders were anticipating, and in the past two weeks officials have
said
the FOMC may raise rates as soon as June.
"Depending on the incoming data and the evolving risks, another rate increase may be appropriate fairly soon," Fed Governor Jerome Powell said Thursday in prepared remarks in Washington.
Derivatives traders see almost a 30 percent probability that the Fed will raise rates a quarter-percentage point next month, up from a 12 percent chance assigned at the end of April, futures data compiled by Bloomberg show.
There's no guarantee Yellen will bring up the outlook for rates on Friday. JPMorgan Chase & Co. bond analysts said in a note this week that they don't expect her to comment on monetary policy.
The question-and-answer period with Yellen is scheduled to end at 1:45 p.m., with a "hard stop" at 2 p.m., said Alison Franklin, director of communications at the Radcliffe Institute for Advanced Study, at Cambridge-based Harvard.
Aviation charter service Blade, which offers flights between Manhattan and destinations including the Hamptons, is seeing a lull in reservations during the appearance.
"We're booked to the gills" from 5 p.m. to 8 p.m. Friday, said Rob Wiesenthal, the company's chief executive officer. "There's a lot of people either leaving in the morning or after the speech."
Liquidity Question
If Yellen does touch on Fed policy, traders attempting to capitalize on any actionable statements may face a liquidity void, if history's any guide.
In 2015, volume in Treasuries was two-thirds of normal on the Friday before Memorial Day, according to data compiled by CRT Capital Group LLC in Stamford, Connecticut. In stocks it was the fifth-slowest session of the year.
"It's unusual and potentially dangerous for the Fed chair to speak on a day when markets are expected to be so quiet and thinly traded," said Larry Weiss, head of U.S. trading in New York at brokerage Instinet LLC. "Any market effect from her comments can be greatly exaggerated based on the lack of natural liquidity."
The last time Yellen spoke publicly, on March 29, shows her potential to move markets.
Stocks gained and benchmark two-year yields
fell to the lowest in a month
after she said in a speech that caution in raising rates was "especially warranted" amid heightened risks from the global economy.
Sailing Intrusion
The early close for bond traders is a recommendation, according to the Securities Industry and Financial Markets Association.
"Each member firm should decide for itself whether its fixed-income departments remain open," Katrina Cavalli, managing director of public affairs, said via e-mail.
Even for those out of the office, the event promises to disrupt efforts to leave markets behind.
David Ader, head of U.S. government-bond strategy at CRT Capital, had planned to spend the afternoon as free as possible from thoughts of yields and investment flows, sailing in Long Island Sound. Now he hopes to monitor Yellen's remarks via webcast.
"I think I can get good reception on the boat," Ader said. "If you hear the lapping of waves, you know where I am."
Watch next: Why Wall Street's Memorial Day Escapade Hinges on Yellen