From Jeff Clark, Editor, Stansberry Short Report:
Three weeks ago,
the U.S. dollar was on life support
.
Short-term conditions pointed to a bounce. But the longer-term picture looked bearish. So we figured any bounce in the dollar was likely to be short-lived.
The buck was poised to break down.
But now, it may be time to rethink that bearish position – at least, for the next few weeks…
We've gotten the short-term bounce we were looking for. The U.S. Dollar Index has rallied from 92.6 to 95.3. That's a gain of almost 3% in just three weeks. That's a remarkable move for a currency. It's a much stronger move than I was looking for. And it has changed the intermediate-term picture on the charts.
Take a look at the following chart…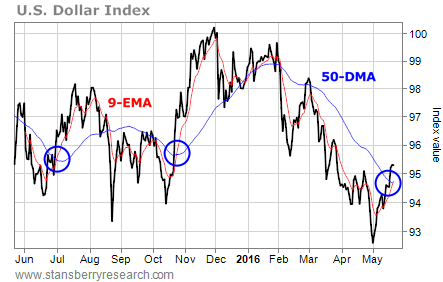 Three weeks ago, I was looking for the dollar to bounce back up to its 50-day moving average (DMA) before turning back down. As you can see from the chart, though, the dollar has broken above the 50-DMA on the recent rally. That's a short-term bullish sign.
Even more important, the nine-day exponential moving average (EMA) has crossed above the 50-DMA on this move.This sort of "bullish cross" often leads to a stronger rally that lasts for several weeks.
The bullish cross last July fueled a 3% rally in the dollar in one month. The bullish cross last October was good for a 5% move higher.
A similar move this time around could push the U.S. Dollar Index back up to the 98 level over the next few weeks.
Over the longer term, there are still plenty of reasons to be bearish on the dollar.
The recent bounce in the buck hasn't done much to change the ominous setup on the long-term chart I showed you earlier this month
.
But this bounce has been strong enough to change the intermediate-term picture from bearish to bullish. As long as the nine-day EMA remains above the 50-DMA, traders should be looking for more strength in the dollar over the next few weeks.
Best regards and good trading,
Jeff Clark