by
Phil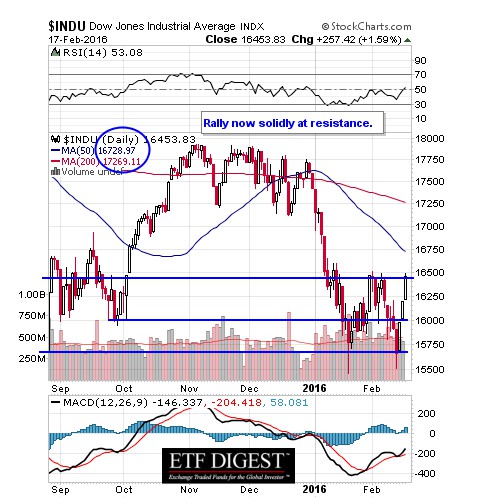 And we're back!
Another day, another 250-point rally on the Dow is now business as usual, if by usual we mean since Friday. Generally, it's considered UNusual for the Dow to go up 1,000 points
(6.4%)
in a month, let alone 3 days but we just did it in October – so why not again in February? In October we actually made a 2,000-point move – all the way to 18,000 and now it took us 1,000 just to get back to 16,500 but we went down on stupid sell-offs in Apple
(AAPL)
and Boeing
(BA)
that never should have happened in the first place
(we're long on both).
As I noted back on 1/14, when we called 16,000 the fair bottom for the Dow
(based on our valuation study of each individual component) and our 10% range for this year should be from there to 17,600 so we're not terribly impressed at 16,500 but at least it's progress. The spectacular gains we've had in our 4 Member Tracking Portfolios since then have been BECAUSE we stuck to our valuation guns and got more bullish while others were panicking.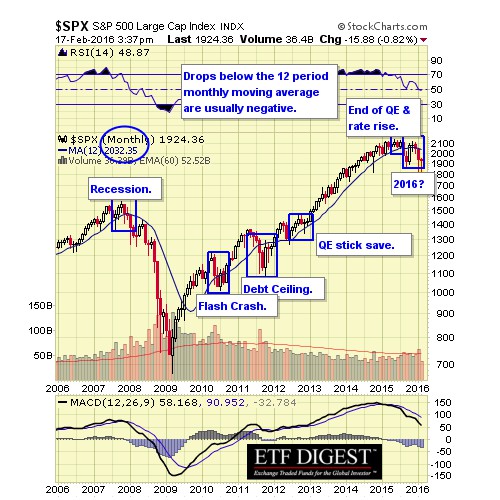 Now we're a little nervous because this is like a date that's starting out really well and we're hoping we can go all the way but we don't want to blow it so a little bit of caution is advised here –
. Last time we blew it at 16,500, it was right after the last Fed meeting and we thought the markets (
thanks to Hilsenrath
) were wrongly interpreting the statement and that caused us to be even more bullish on our second sell-off of the year.
Frankly, I'd be a lot more confident in this rally if we had taken the same two weeks to come back as we did to fall. Why? Because the volume of selling on the way down was about 1.5Bn on SPY on the way down (since 2/1) and 375M on the way up so, in the round-trip, we've had 4 times more sellers than buyers, essentially – it's kind of hard to make a